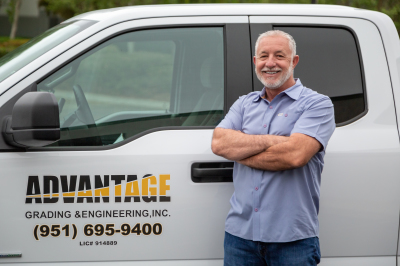 Jerry Russell has been in the construction industry since 1985. Having been born and raised in Southern California, he is very familiar with the Riverside and surrounding counties. Jerry has built his reputation on providing personalized customer service. Two of his most appreciated qualities
is
that he is very accessible and approachable to his clients. 
Jerry Russell

President, Owner

Jake joined Advantage Grading & Engineering in 2015. Jake has been in the grading, underground, and construction fields for over 20 years and in that time has spent countless hours developing his equipment operating and supervisory skills. 

As Foreman, Jake assists our clients in achieving their project vision, ensuring them that their project will be completed on time and on budget. Jake lives in the local area with his wife and family.
​​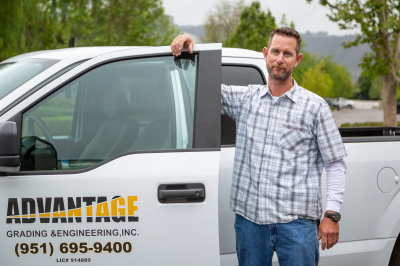 Jake Machado
Superintendent


Vince joined Advantage Grading & Engineering in 2014. Vince has been in construction sales and customer service since 1992. As Estimator, Vince handles the inspection of blueprints, time and materials estimation, and the composition of all proposals. 

Vince is results-driven and centered on team-oriented accomplishments. This enables him to focus on the client's expectations and to deliver a high level of client satisfaction. Vince lives in the local area with his wife and two sons. ​​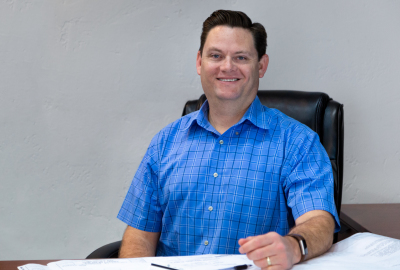 Vince Blazek
Estimating / Operations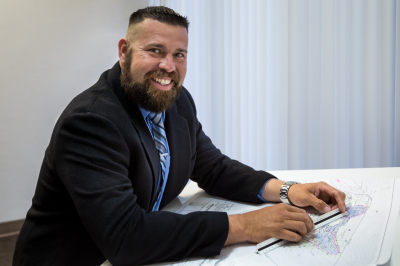 Victor joined Advantage Grading & Engineering in February of 2015 fresh out of the Marine Corps.  He had seen combat as a Combat Engineer in Iraq and Afghanistan on four different deployments while rising to the rank of Staff Sergeant after 16 years. 

Victor, his wife Karen, and their two children have called Temecula home since 2009.  Victor's motivation and desire to produce for our clients have been a blessing to the company since his joining the team.
Each one of our clients has a different vision in mind for their project. Our goal is to fulfill that vision and ensure that each of our clients is completely satisfied when the project is complete. 

There's no need to tackle your project alone. Our experts get the job done more quickly and safely than you can do it on your own. Fulfill your project's vision! Call us.